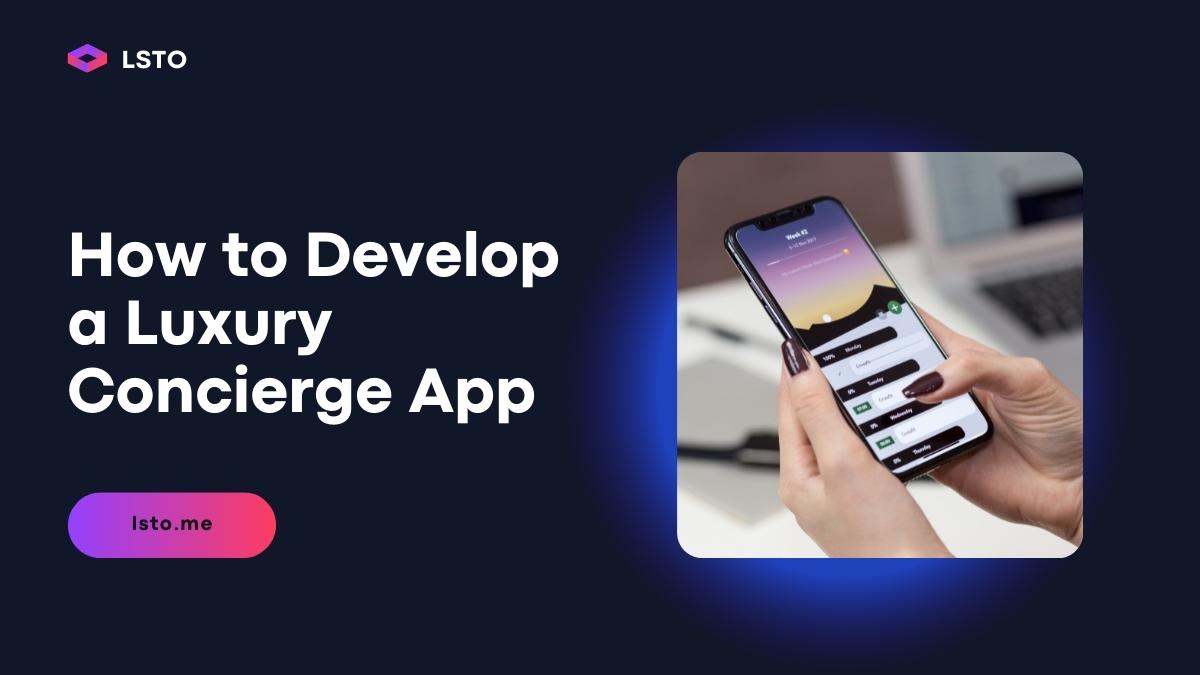 The concierge services market is flourishing and growing. Back in 2019, a report by Grand View Research estimated that the global market for concierge services was worth $537.6 million in 2018 and would reach $773.3 million by 2025. The recent data provided by Statista shows that in the US solely the market size reaches 2.62 billion in 2021.
The demand for concierge services mainly comes from large corporations, high-level managers, VIPs, celebrities, and tourists. Factors such as busy lifestyles, expectations of privacy, and a desire for exceptional customer service are driving this demand.
There are various types of concierge apps on the market. They provide access to in-home domestic services (like Alfred), improve cruise and travel experiences (like MedallionClass and Journy), and even let you book a private jet (like Sentient Jet). 
In this article, we discuss apps for luxury experiences, as such concierge app development requires you to take into account the subtleties of their implementation. First, let's find out what businesses opt for creating concierge software for VIP customers.
Who provides concierge services through an app?
Specialized businesses offering premium services are eager to satisfy demanding customers. These businesses often provide perks, support, and services related to their main service. Take a look at examples of such services and discover how they improve the customer experience with apps.
Private aviation services. Sentient Jet is a US-based company specializing in private aviation services. A customer buys the 25-Hour Jet Card allowing flexible access to light aircraft or the more expensive 25-Hour Plus Jet Card with added access to Wi-Fi and jets with larger cabins. The Sentient Jet native app for iOS and Android offers access to all Sentient Jet services, including onboard catering, ground transportation, accommodation, and real-time chat support.       
Luxury real estate auctions. Concierge Auctions is the largest global online marketplace for buying and selling luxury properties. The company has a huge database of luxury property buyers and sellers. With its free app, Concierge Auctions enables customers to browse real estate, place bids, and watch auctions in real-time. 
Premier car rentals. Bentley Motors offers the free Bentley Network app. After a simple registration process, users need to wait around two days to be verified by the system. If membership is confirmed, a user can create their profile and add information on their Bentley in the My Garage section. They can then access news and receive invitations to various luxurious events and motorsports meetings via the app. Bentley Network offers a service called Bentley on Demand and is also a kind of social network, allowing users to connect with other Bentley owners to build business connections.
VIP helicopter travel. California-based OC Helicopters specializes in luxury helicopter tours around spectacular locations in Southern California. The company's free-to-download app offers access to charters, tours, and even heli-diving. The app also provides taxi ordering services thanks to its Uber integration.
Shopping assisting services. PS Dept (short for Personal Shopper Department), a shopping assistant app for iPhones, accommodates busy customers by offering access to stores all around the city. The app has become an iPhone-contained concierge for tracking down items of luxury for those who can appreciate them.
If you offer a highly exclusive service, build your app around it. You also might want to create an app with a much wider range of services. But keep in mind that the more different luxury services you plan to provide via an app, the more challenging the app will be to implement. Keep reading to learn why.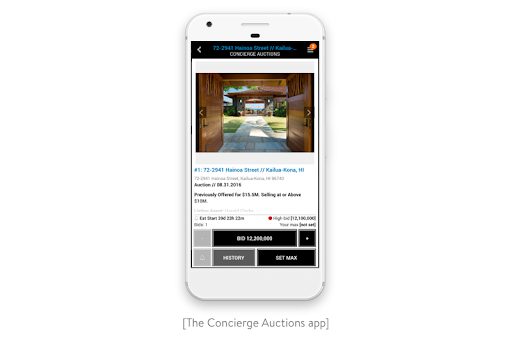 Why is it challenging to provide multiple premium services through an app?
The luxury segment is extremely conservative and is not quite open to digitalization. The luxury market is mainly occupied by traditional ultra-exclusive and elite lifestyle services like Nota Bene Global and The Billionaire Concierge.
As a rule, you can't just download an app or even call up such companies to access their services. To become their client, you have to be added to their list of annual subscribers. Only then will a team of in-house experts take care of your fancies, whether they be for a private jet to Geneva or vacation in a villa. 
Most reputable all-around luxury concierge services don't provide apps. All recommendations and assistance come from well-traveled assistants through personal contacts. It's very hard to please VIP clients with an app due to the need for extreme personalization. 
But there is a market player that has managed to provide multiple state-of-the-art luxury services via a mobile app and become popular among users. This concierge service app platform is called Velocity Black. Let's study its best practices and check out the reasons for its success.
Velocity Black overview 
A UK-based tech company Velocity Black is actually a members club app. To access Velocity Black services, you should download the app and join the waiting list of potential members. The annual cost of membership is $2,800. 
But even if you can afford the price, it doesn't mean you'll be able to access the app, as you have to be approved and invited to become a member. By becoming a member, you get access to exclusive events and entertainment – such as a trip into low-earth orbit, which will cost you at least $55 million.
Velocity Black targets millennials whose preferred form of communication is instant messaging on smartphones. The app provides the ability to chat with a team of experts, and users are guaranteed a personalized response within a minute, 24/7/365. The more you use the app, the better it knows you, providing increasingly personalized recommendations and services. This state-of-the-art experience is possible thanks to three components: 
AI technologies
Human experts
Fast collection of quality data
Let's look at each of these components in detail and explore ways you can add them to your app.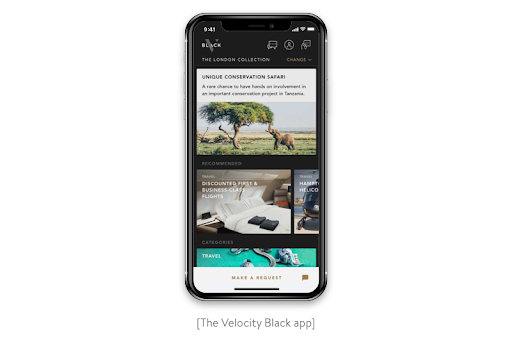 1. AI components
As a leading AI-assisted e-concierge, Velocity Black is currently gathering a development team in its new technology center in Vilnius to build AI-based technologies to improve the user experience. Building such powerful artificial intelligence digital concierge systems is very expensive.
But just as many concierge services are no longer only a luxury for the rich, certain AI technologies are also becoming widely available and more affordable. The following are two open-source and customizable voice assistants that can enable your app to make reservations, surf the internet, search for locations, and more.
Kalliope. This voice assistant is tailored to home automation. It runs on Linux, Raspberry Pi, and Android devices. Kalliope provides developers with easy-to-understand documentation and an API.
Stephanie. This platform is crafted to work as a virtual assistant for voice-controlled apps. Stephanie was released under the MIT license and comes with clear documentation for end users and developers on how to install, configure, and use it. Developers can easily extend Stephanie by building their own modules.
There's also a new generation of AI-powered chatbots. By using machine learning and natural language processing, chatbots such as Watson Assistant and Rulai can interpret the intent behind requests, access conversation histories, and respond to requests in a human way.
But even the best AI services today, both proprietary and open-source, can't compete with dedicated concierge teams. That's why Velocity Black, with its top-notch technology, still works with human assistants.
2. Hiring a concierge team
Employing a real person in the role of an online consultant will provide the following benefits:
Customized service. A personal concierge app with an online consultant is personalized. A sense of style and an ability to adjust and surprise is what a lot of people are looking for in concierge apps. Algorithms can hardly come up with an unexpected gift idea or, for example, offer a unique combination of clothes to create a gorgeous look.
Continuous learning from interactions with the client. It is possible for machines to learn, but human online consultants are much more adept at taking into account an individual's lifestyle and personality, not just basing suggestions on a history of past purchases or orders.
Human-supported apps with convenient messaging or in-app calling allow clients to connect with concierges that can help with a number of tasks, from recommending a restaurant and booking a table to waking them up in the morning.
Velocity Black created a network of well-connected human assistants and connected them with a travel department with location-specific knowledge. This department helps assistants respond to difficult requests and hook up clients with hotel upgrades and executive rates for business flights.
There are also examples of more accessible concierge apps that have successfully included the human component.
Renaissance Hotels. It's a hotel concierge that has combined technology and personal service with its global Navigator hospitality program, an on-site, online, and mobile program built around a curated database that gives guests recommendations about local cuisine, drinks, shopping, and entertainment. Each Renaissance location also hires its own "navigators" – locals who have deep roots in the community and can introduce hotel guests to the most exciting experiences a city has to offer.
Alfred. Alfred actually relies on a devoted team of people who can make your life "as comfortable as living in a high-end hotel": they'll deal with your laundry and dry cleaning, do grocery shopping, and even sort through your mail.
PS Dept. The app uses a human-to-human interaction which is greatly facilitated with the help of mobile technologies. Users send an image and a description of the desired item through the app, and in response get a number of suggestions from a team of online consultants. The team behind PS Dept says that they work for their clients in an old-fashioned way, finding items online and offline. PS Dept uses personal text and photo messages sent by real humans to communicate with users. They don't try to push the purchase on the customer by selling something "users did not know they need". PS Dept employed technology together with the expertise of top stylists to satisfy the most demanding clients. People who shop with PS Dept often look for very specific and quite expensive items (though PS Dept is not solely focused on high-end retail).
Both AI and human specialists need to use data to quickly consult clients. Let's figure out how you can make this possible.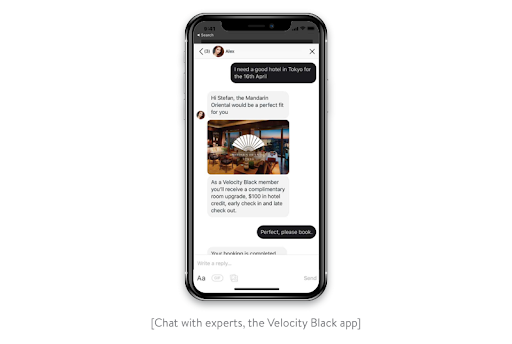 3. Gathering data
Data-powered concierge apps require existing databases with information about hotels or flights. These databases are usually accessible through APIs that can be integrated into your app. We've put together a short list of trusted databases and APIs that are often used for travel and hospitality apps and websites.
CHD Expert Hospitality Foodservice Data. This database is updated monthly and is divided into segments: hotels and lodging, restaurants, catering, recreation, and leisure activities. It's widely used by sales professionals in the hospitality industry and is an invaluable asset for anyone developing an app for frequent travelers.
developer.ean.com. This full-stack API is useful for hotel bookings.
Flightstats.com. FlightStats APIs offer a number of services including up-to-date information about flight schedules, available connections, and airline provider ratings. They can even find the most efficient routes and send push notifications about flight statuses.
These APIs alone won't give you everything you need for your concierge software, but they can be your main source of relevant data in the app development process.
Finally, let's talk about the most promising audience segment to target to give your concierge business a stable stream of revenue.
The most promising target audience for your concierge business  
The demand for corporate concierge services is higher than the demand for any other concierge services and is predicted to remain strong. Services for event planning and organizing corporate parties and annual professional gatherings are very popular. You might have a small number of clients, but their frequent requests and the high cost of services will help you ensure stable revenue.
That's what Pana, a Denver startup, relies on upon. Starting as an app for luxury travelers, the company tried to gain an inroad with consumers, but its $49-per-month individualized travel concierge plan limited its reach. Now, Pana helps organizations by organizing candidates' trips for on-site job interviews. Pana is currently booking thousands of trips a month for firms.
In order to stake a position in the luxury land, you can also choose premium brands as your target audience. They provide their customers with concierge services for the same reasons luxury hotels do – to increase customer loyalty.
For instance, a jeweler could offer concierge services to a buyer who made a significant purchase to help them organize the unforgettable engagement or birthday related to that purchase. To do this, it would be easier for the jeweler to partner with a professional concierge business than to provide such services themselves.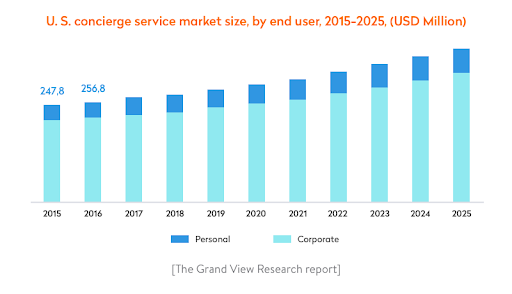 Hybrid concierge apps that combine human teams, artificial intelligence, access to extensive databases, and a focus on a specific audience seem the most promising and scalable.