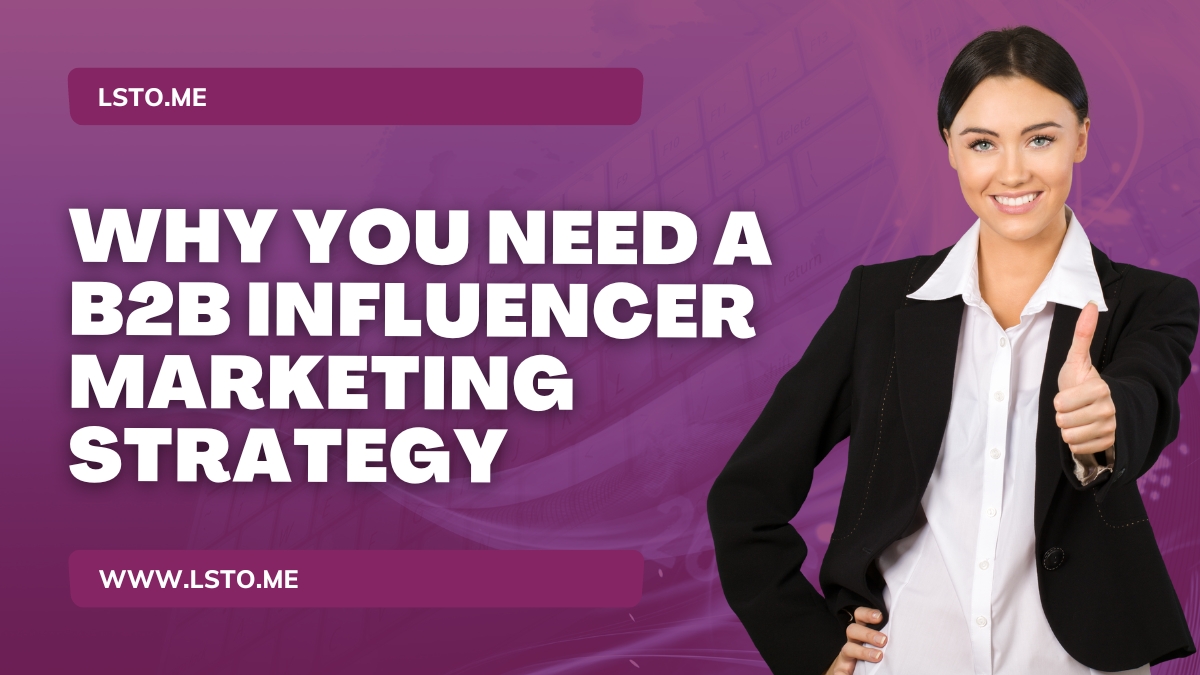 In today's digital world, a successful B2B influencer marketing strategy is essential to staying competitive. Influencer marketing allows businesses to reach a larger audience and maximize their brand's visibility. By leveraging the trust and authority of key industry figures, businesses can gain an edge over the competition in the highly competitive B2B market. In this article, we will explore why you need a B2B influencer marketing strategy and how it can help your business succeed.
Why is B2B influencer marketing important?
Business-to-business (B2B) influencer marketing is a powerful tool for organizations in the digital age. It involves leveraging the reach and knowledge of key people and groups within an industry, who can help to promote your brand's products or services and build trust with potential customers. This type of marketing is increasingly important for B2B companies, as it has been proven to be very effective in driving new leads, building brand awareness, and increasing sales.
Utilizing influential figures within a B2B market can help brands effectively reach key decision-makers, such as CEOs and industry experts. B2B influencers have built up credibility through their expertise in a particular topic area. These individuals are considered knowledgeable authorities on certain topics and they can use their influence to spread positive messages about your company's products or services.
A quick guide to B2B influencer marketing
Where to find influencers
Where to find influencers for your B2B influencer marketing strategy has become more important than ever. Businesses are now actively seeking out and engaging with individuals who can help them reach more of their target audience, build trust, and ultimately increase their bottom line.
The key to finding the right influencers for your business is to research across social media networks and narrow down who best resonates with your brand's values, mission, and message. It's important to pick an individual—or multiple people—who have a large following but also possess authenticity to create meaningful connections with potential customers or clients. Start by looking at platforms such as Twitter, YouTube, Instagram, LinkedIn, and TikTok. Additionally, you may want to look into niche forums or bloggers as they could be great resources for targeting specific industries or demographics.
Build a B2B influencer connection
B2B influencer marketing is a powerful tool that can help enhance your business's profile and build connections with industry leaders. It allows businesses to tap into the power of social media by connecting with key influencers who have already established authority in their field. By leveraging the reach of these individuals, businesses can increase their brand visibility and drive more sales.
Creating an effective B2B influencer connection involves finding the right person for your particular business sector or industry. Consider looking at social media platforms like LinkedIn, Twitter, and Facebook to identify potential influencers that align best with your goals and objectives. Once you've identified some suitable candidates, create an engagement plan to ensure success. This could involve reaching out to them via direct messaging or setting up one-on-one meetings for further discussion about topics related to your business.
Make sure to vet any potential connections
In today's world of B2B influencer marketing, it's important to vet any potential connections before engaging in a partnership. As a business, you want to ensure that the influencers you are teaming up with align with your values and will help positively promote your brand. It's essential to do your research on each individual before committing to any sort of collaboration.
When vetting potential connections, it helps to look into the type of content they create and who their followers are. Take note if their audience fits within the target demographic for your brand, as this is an important factor when evaluating whether or not a collaboration would be beneficial for both parties. Additionally, make sure that any influencers you work with have high-quality content and actively engage with their followers.
What is your plan for co-creation?
Co-creation has become an important element of B2B influencer marketing. It helps companies to create content that is relevant, engaging, and resonates with their audience. This article will explore what co-creation is and guide how you can implement it in your next B2B influencer marketing campaign.
Co-creation involves working with customers to create products or services that meet their needs and preferences. By giving them a platform to share ideas, companies can learn more about the consumer's wants and needs, as well as gain insights into new markets or product offerings. Co-creation also encourages collaboration between businesses and customers, which can lead to better customer relationships, improved loyalty, and increased profitability.
When planning for your next B2B influencer marketing campaign, consider incorporating a co-creation component into it.
How do you plan to compensate influencers?
Influencer marketing has become an increasingly popular practice for businesses looking to expand their reach and build relationships with potential customers. Especially in the B2B space, leveraging influencers is a great way to target new audiences and establish credibility with potential customers. Knowing how to effectively plan and compensate influencers can be the difference between a successful campaign and a major flop.
The first step in planning your compensation strategy is to consider what kind of influencer you are hiring. Will they be primarily creating content or engaging in outreach activities? Do they have an established following, or are they just starting? These questions will help you determine what kind of compensation structure makes the most sense for your business. You may decide that paying per post is best, while others may prefer offering long-term contracts or revenue-sharing arrangements.